WEG motors,  soft starters, and variable frequency drives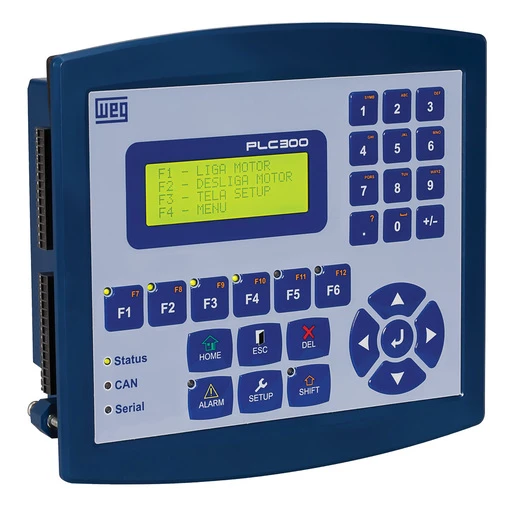 WEG Programmable Controllers replace auxiliary contactors, timers and electromechanical counters, optimizing spaces and significantly facilitating maintenance activities.
Features
10 digital and 1 analog built-in inputs, 9 digital (1 fast) and 1 analog built-in outputs;
Possibility of digital and analog I/O expansion via CANOpen network;
I/O expansion modules of the CFW11;
Built-in encoder input (100Khz);
Communication interface: Modbus-RTU (Master), CANOpen (Master);
Up to 240 screens programmed by the user;
Programmed in ladder language using the WPS free software application (Weg Programming Suite);
Front HMI and possibility to customize the membrane (available in the version with built-in HMI – HPC and HSC models);
Back display for the back panel version (BP and BS models);
Built-in USB port to communicate with the computer;
Internal flash memory;
Battery voltage monitoring;
Ethernet Modbus-TCP Port;
SD card port;
Communication with the PWS line of graphic HMIs (3.3 to 15").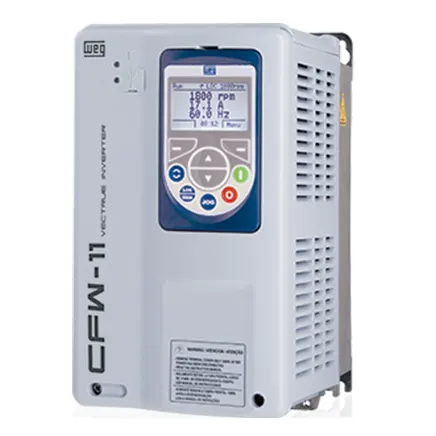 WEG CFW11 Series achieves a performance increase over most complex drive systems (6 A to 365 A), with wide range of communication protocols and Plug-and-Play accessories.
Features
Power supply:
200 to 240 V single-phase: output current from 6 to 10 A (2.0 to 3 cv)
200 to 230/240 V three-phase: rated output current from 7.0 to 211 A (2.0 to 150 cv)
380 to 480 V three-phase: rated output current from 3.6 to 720 A (2 to 970 cv)
500 to 600 V three-phase: rated output current from 2.7 to 435 A (2 to 850 cv)
500-690 V three-phase: rated output current from 2.7 to 365 A (3 to 850 cv)
Built-in inductors on the DC Link
Space saving in the panel
Built-in USB port
Inverter smart cooling system
Several communication protocols available (Modbus-RTU, Modbus-TCP, Profibus-DP-V1, DeviceNet, CANopen, EtherNet/IP, EtherCAT, PROFINET-IO and BACnet)
Version with cabinet with degree of protection IP55 (versions with built-in switch-disconnector)
High precision and reliability in speed and torque control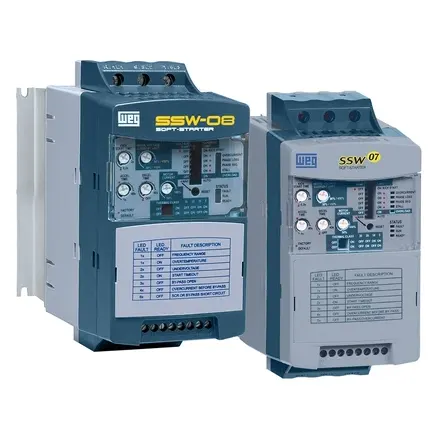 WEG Soft-Starters, offer longer lifespan of the motor and equipment. Designed for acceleration, deceleration and protection of three-phase induction motors.
Features
Currents: 17 to 412 A
Voltage: 220 to 575 V
Built-in bypass
High starting duty
Total control on the three phases
Protection of the motor and built-in starter
"Kick-Start" function for starting loads with high static friction
Remote or local HMI (optional)
Input for the motor PTC (optional)
Operation in environments up to 55 °C
Extremely reduced weights and dimensions
RS-232, RS-485, DeviceNet or Ethernet communication (optional)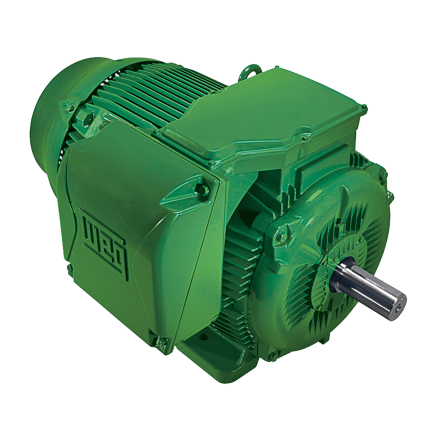 With cast iron frame, flexible mounting, solid/whole feet, and lower noise levels and operating temperatures, the W22 motors are perfectly suitable for a variety of industrial applications.
Cooler by design
The ventilation system design of the W22 line provides lower noise levels and allows a better distribution of the air flow over the motor, which minimizes hot spots on the surface and increases reliability and useful life.
The fan cover made of cast iron offers greater impact resistance IEC 160 / NEMA 254T and larger and all IEEE 841 (IEC 63-132 / NEMA 143T-215T standard W22 are heavy gauge stamped Steel)
Terminal box and eyebolts positioned so as to reduce the air flow dispersion
Lower operating temperature on the bearings, resulting in longer lubrication intervals
Contact Us
Please enter all fields so we can get back to you